Shanghai, Suzhou, Hangzhou, Yangshou, Guilin, Hong Kong and Daji's SWI in Yiwu
Returning to China – 2007
After returning from our 3rd trip to China in April 2006, where we visited Yanmei's Social Welfare Institute (SWI) in Jinchang, Gansu Provice, we didn't have any particular intentions to visit China again already 18 months later. However after visiting Jinchang, Daji started to ask why we hadn't also visited his SWI in Yiwu, Zhejiang Province. Being both younger and far less mature than Yanmei, we hadn't planned to visit Yiwu for a number of years, and couldn't decide whether this was a real wish from Daji's side or just not wanting to be outdone by his older sister. We assumed the latter, but decided to give him the benefit of the doubt. To be honest, once the seed was planted, we didn't need much convincing either :-).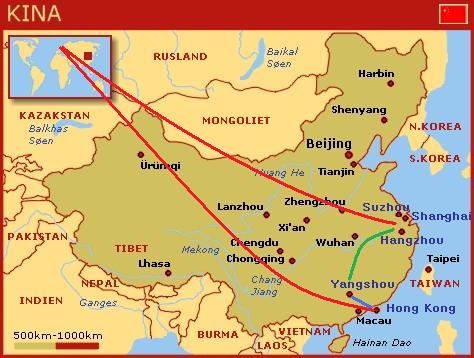 Zhejiang provice lies just south of Shanghai on the east coast of China and is one of China's richest provinces. Luckily Yiwu is far more accessible than Jinchang, so a trip to the SWI could be managed in a single day instead of the fours days we spent in conjunction with the visit to Jinchang. We started planning our fourth trip to China in February 2007. Via mail we agreed most of the itinerary with CWTS in China, who also arranged all the official paperwork for the visit to Daji's "home" in China.
Our 21 day trip to China took us to Shanghai, Suzhou, Hangzhou, Yiwu, Yangshou, Guilin and Hong Kong, a mixture of big cities and Chinese countryside. Whilst we'd love to say the highlight of the trip was the visit to Daji's SWI in Yiwu, it wasn't the case. 
Given Daji was almost 3 years old when we adopted him, and almost 8 when we went back, we were interested to see whether he had any recollection of the SWI. As it turned out, he didn't, and in truth he showed no interest at all in the SWI.
We had 21 fantastic days in China and left tired, but again far richer for the experience.
If you decide to read on, which we hope you do, please enjoy the pictures and the text, but please also remember that the description is primarily meant for us – for us to remember the details of our fourth trip to China. Some of the detail will be of little or more likely no interest to you, the reader, at all. We hope you enjoy it anyway.
Read the day by day description of our fourth trip to China ...