Hong Kong, Sunny – Max: 31; Min: 23; Avg: 27
After breakfast we packed and checked out, leaving our luggage at the hotel. First stop was a coffee shop for coffee, and more importantly to check-in for the evening flight home to Denmark via London Heathrow. Our hotel room looked out over Nathan Street, more specifically a large department store just starting its winter sale. After coffee we ventured into the department store, together with what seemed a vast number of locals. We bought more children's clothes and a very large, and never since used,  suitcase to fit everything in.
We continued along Nathan Road taking in some of the smaller side streets – Woosung Street with its restaurants with live seafood tanks and glazed ducks hanging from the windows, Saigon Street with a large herbal tea shop, Temple Street famous for its night market, the Yau Ma Tel food market on Reclamation Street, finally arriving at the Jade market.
The Jade market is a covered market, consisting of 400 stalls selling jade, pearls and other collectibles. One block east of the Jade market we found the Tin Hau (Goddess of the Sea) Temple and sat under the banyan trees and rested in the heat. Steven and Daji went in, but there were just as many people resting in the park as there were in the actual temple.
We made our way north along Nathan Road to yet another market, the Ladies' Market selling all form of ladies accessories. Next market was the goldfish market, easily noticeable from shop after shop selling multi-coloured exotic fish, mostly in plastic bags. We'd never seen anything like it. We ate at a local restaurant – our last meal in Hong Kong consisting of rice and pork.
We passed another market selling clothes before reaching Sai Yee Street where we found the flower marker – shop after open-fronted shop selling orchids, roses and all other imaginable flowers, and at a fraction of the cost of what equivalent flowers would cost in Denmark.
At the end of the flower market and up a few steps we found yet another market, the bird market. Consisting of a series of Chinese-style courtyards lined with shops selling songbirds, beautiful birdcages, live crickets and whatever else a songbird needs. A number of locals bring their own birds to the market – for an outing. The market was closing down, so some of the birds were being covered for the night. Just like the fish and flower markets, it's an amazing sight, seeing shop after shop and hundreds, if not thousands of multi-coloured birds.
We started the walk back along Nathan Road towards the hotel. The noise and crowds were amazing – Friday evening and everybody seemed to be out. At times there were so many people that you couldn't cross the street on green, you had to wait until the next time the light changed.
We picked up our suitcase from the department store and back at the hotel managed to repack and wash before leaving for the airport in a taxi. Hong Kong airport is new and efficient. We were in plenty of time, although the airport departure area is so large we never managed to sit down, just walk around and see all the shops and spend the last of our Hong Kong money!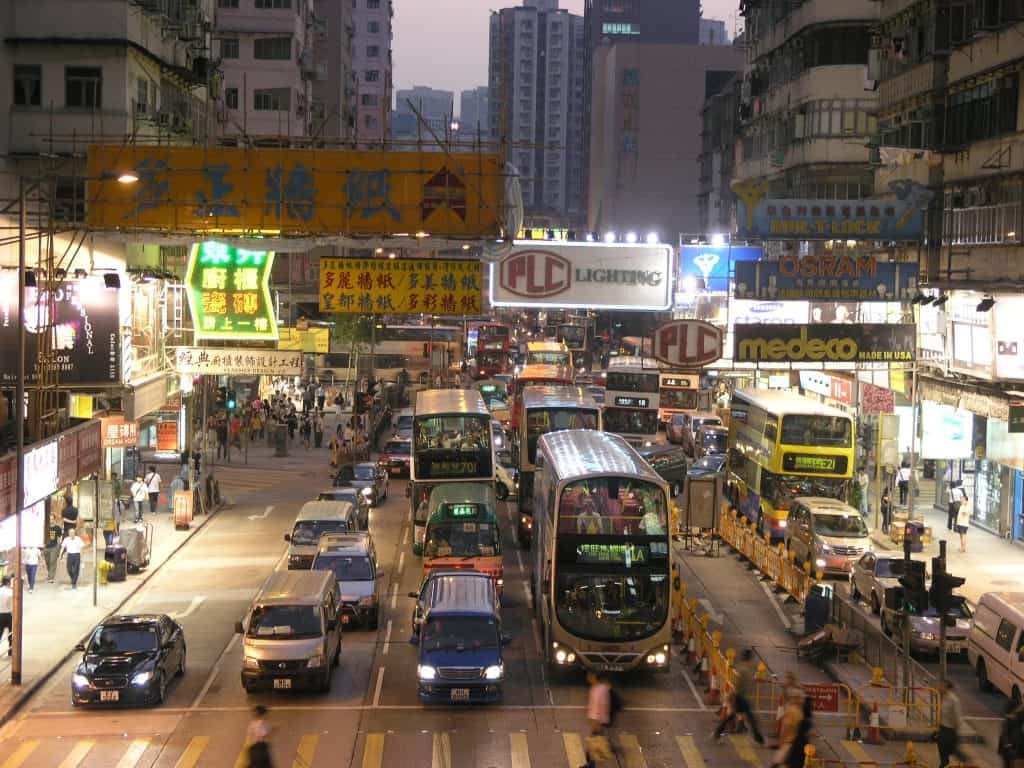 The flight left on time at around 0:30 am, and enjoyed a quiet trip back to Heathrow, where we arrived at around 4:30 am UK time. We all slept most of the way and woke up fairly relaxed. The good thing was that getting through all the security checks at Heathrow were quick and efficient so early in the morning, but at Terminal 4 almost all the shops were closed until 6am, so we couldn't even get a cup of coffee.
We arrived back in Copenhagen at around 11:00 and were amazed how quiet it was for a Saturday morning – after Hong Kong everywhere is quiet!