Beijing, Xian, Lanzhou and visiting Yanmei's Social Welfare Institure
Returning to China – April 2006
We started planning our third trip to China during November 2005. Via mail we agreed most of the itinerary with CWTS in China, who also arranged all the official paperwork for the visit to Yanmei's "home" in China - Jinchang City in Gansu province.
Being honest, the need to see Jinchang and visit the SWI was greater from our side (Lene and Steven), than it was something Yanmei felt she had to do. Yanmei was 8,5 years at the time of the visit, and is very clear in her mind about her Chinese roots and her Danish life. However Yanmei also wanted to go back to China, primarily to walk on the Great Wall (again) and see the Forbidden City - after seeing Disney's Mulan.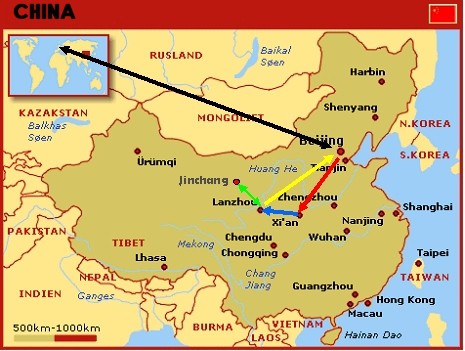 Our 20 day trip to China took us Beijing, Xian, Lanzhou, Jinchang and Wuwei. The high point was, of course, the great day we had at the Jinchang SWI (see pictures by selecting the link), but also the Great Wall and the Terracotta soldiers in Xian were fantastic experiences, as was just walking around and see all "life" at street level. It was an important for us that on this trip we did whatever we wanted to do, whenever we wanted to do it and at our own pace, i.e. no guides dragging us around and telling us things we'd almost immediately forget (no disrespect to the guides, who do a great job).
We had 20 fantastic days and all left China tired, but far richer for the experience. Visiting the SWI will be a memory for life, both for us and I think for the Social Welfare Institute as well. Yanmei was the first child to return (not only to Jinchang, but in the whole of Gansu) and all the staff opened their arms to us and made it a truly unforgettable day.
For Lene and I, the visit has helped release a lot of emotional energy – energy that consciously or sub-consciously was spent speculating about what Jinchang was like and how had Yanmei been looked after.
We've now seen Jinchang and met the nannies, many of whom remain from Yanmei's time at the SWI, and the meeting only confirmed to us that the children from Jinchang have been loved and cared for during their time spent at the SWI.
Yanmei – she enjoyed the attention, loved the show in the evening and was happy for the visit. Time will tell whether the visit has had any other impact on her.
If you decide to read on, which we hope you do, please enjoy the pictures and the text, but please also remember that the description is primarily meant for us – for us to remember the details of our third trip to China.
Read our day by day description of our 3rd trip to China ...