Lanzhou, Light Cloud – Max: 17; Min: 3; Avg: 10
I suppose there is always one day during a holiday where you don't get as much out of as you'd hoped. This was our last day in Lanzhou before travelling to Jinchang. I suppose that partly based on our excitement about what the next days would bring, partly based on the fact we'd already experienced so much and partly because we assumed that shopping must be cheap in Lanzhou, we dropped the idea of visiting the Five Springs Park, which we'd visited when we collected Yanmei, and decided to go shopping instead!

We took a long breakfast and spent some time with one of the families that had just adopted. Everything was going well. It was Easter Monday and the hotel had an Easter bunny in a cage which all the children of course loved.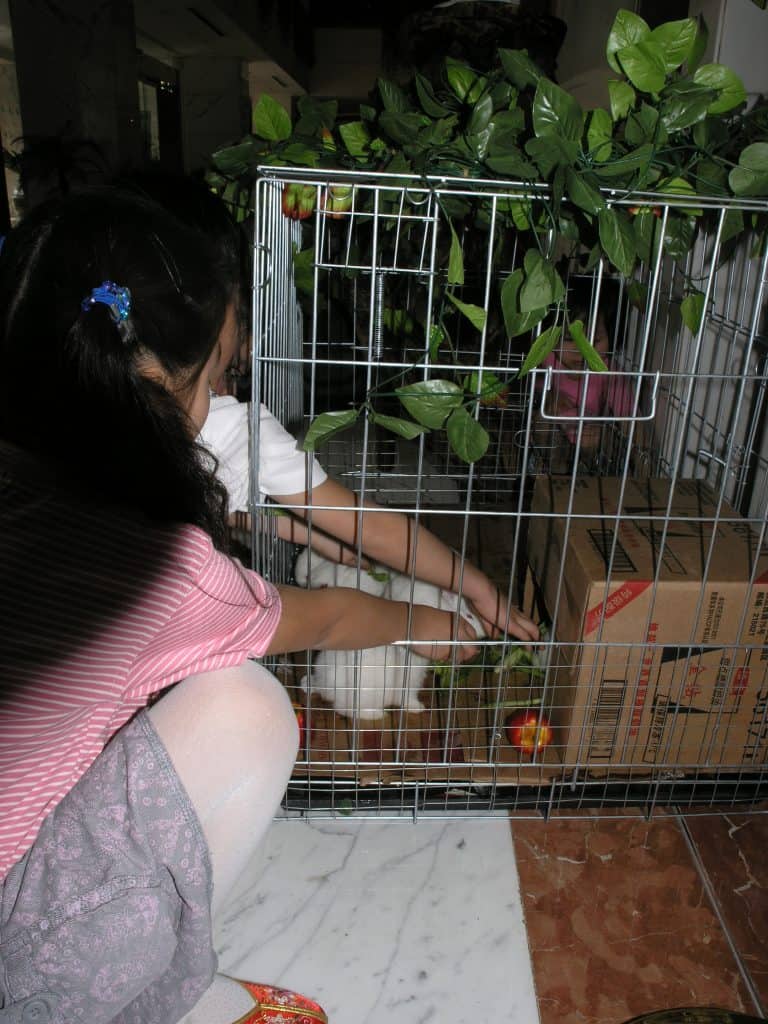 We also took some time watching the chaos on the intersection below our hotel window – it really is amazing that there are no accidents, and we have no idea what role the policeman standing in the middle of the intersection plays – there seemed to be no order at all. We watched the sun rising, trying to break through the clouds and the smog.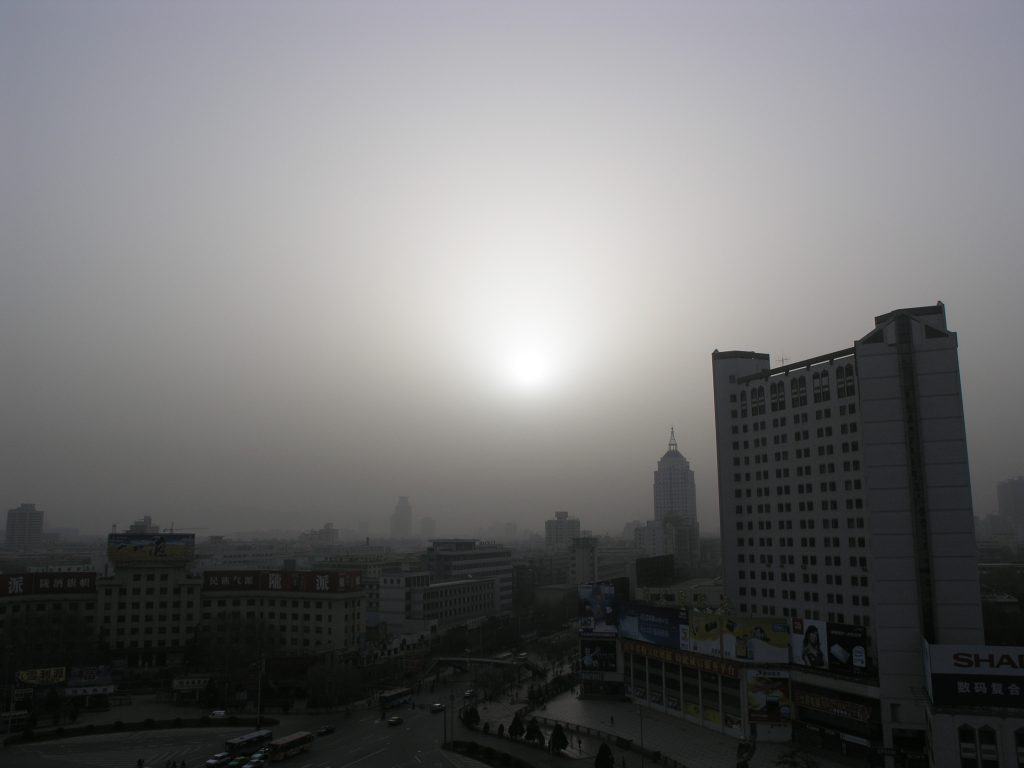 Mid-morning we took a taxi to the centre of town, visited a couple of department stores and walked up and down one or two of the main shopping streets before deciding we'd make our way back to the hotel – Lene and Yanmei each found a pair of traditional embroidered Chinese shoes – Lene's for less than 10 RMB, Yanmei's slightly more expensive. As with everywhere else we'd visited, Lanzhou was undergoing major renovation work. The walking street we remembered from our previous visit was being renovated, and all that currently remained was a lot of dust and a narrow passageway with far too many people.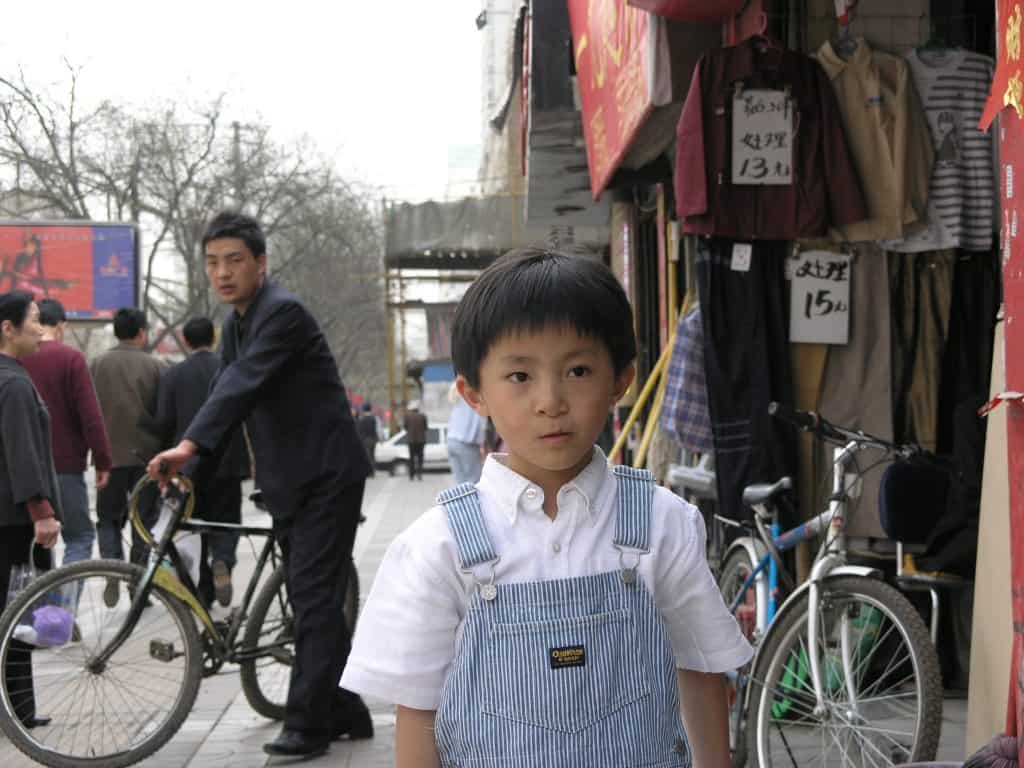 We made our way back towards our hotel, and stopped at an exercise playground. An older lady came up to us and asked where we were from and why we were visiting Lanzhou. Her English was good, her daughter lived in England. She translated for a few interested families and she brought up the subject of adoption. She asked us whether we paid to get Chinese children. We only managed to tell her about the 3.000 USD that goes it back to Social Welfare Institute and she didn't want to hear more. She told us that adoption was on the rise in China as well, and a Chinese family paid 2.000 RMB to adopt a child. We walked as far as the main square and the children spent an hour or so on the exercises before we took a back route towards the hotel.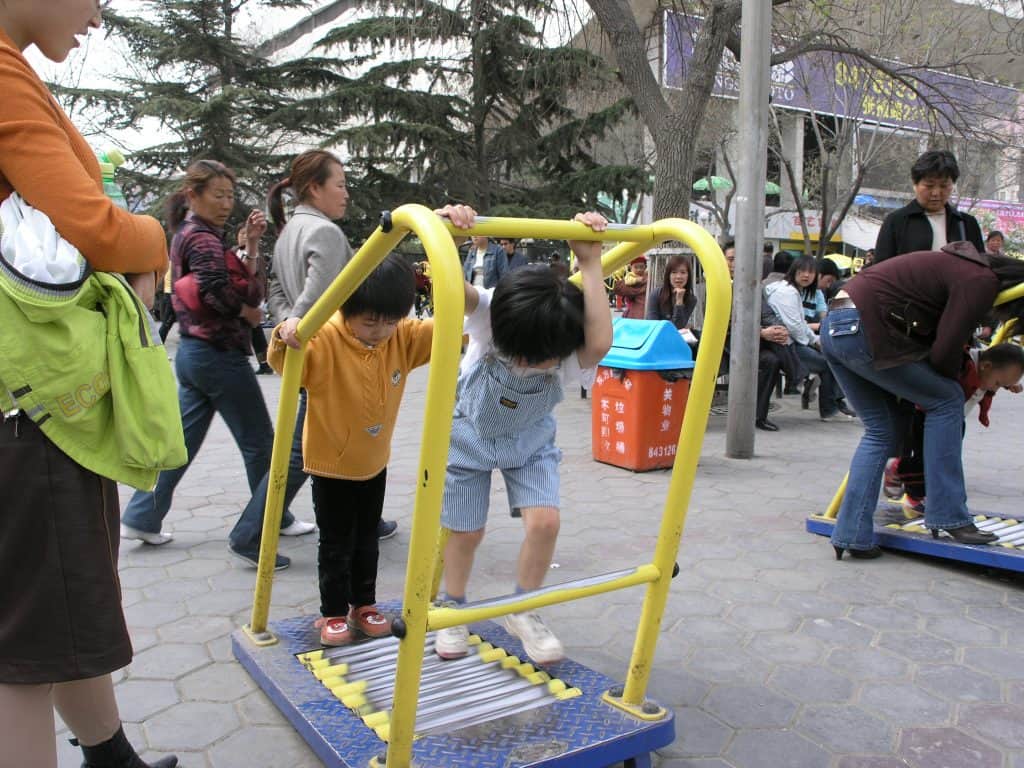 We had tried to exchange some Danish money at a couple of banks – all had refused. We were getting worried that we would run out of RMB whilst we were in Jinchang. As we walked back to the hotel, we noticed there was a Bank of China next door. It took a long time, they wanted a passport, which Lene had at the hotel, the money changed hands at least 5 times. Everybody was watching a female customer extract ca. 200.000 USD. Finally my 2000 DKR were exchanged for 2,550.60 RMB.
We'd arranged to meet the guide at 5pm and we left Yanmei and Daji in the room watching cartoons. Our guide Megan, and her boss (Johnny), had arrived and we agreed to meet at 8:30 am next morning. We told them that together with two Canadian families, who had sent us money, we wanted to purchase something for the SWI. Johnny called the SWI and they proposed we purchased a washing machine. We also wanted to buy Hans Christian Andersen's complete works in Chinese. Hans Christian Andersen is very popular in China, or so we are told in Denmark. Megan wrote something on a paper, but when I went to the book store with the paper she had written in Chinese, it turned out that all it said was Fairy Tales for children. However with the help of an assistant in the shop, "Andersen" and "Denmark" was enough for her to find the two copies of his complete works that were in the shop.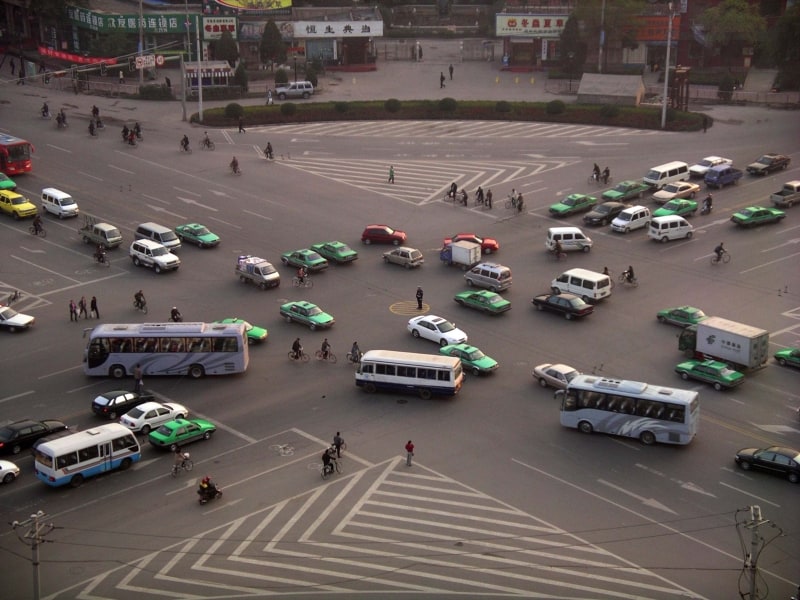 In the evening we decided to go back to the same restaurant we'd visited the evening before. The service and food were just as good, well the service was perhaps a bit too much, we were treated like royalty, hardly being able to take any food from the serving dishes to our plates. We asked about wine, but were told it was very expensive (not how expensive it was) so stuck to beer for me and this time ordered grape juice for Lene and the children. We were evidently far more extravagant this time, the bill came to 160 RMB – probably due to the grape juice? We again lay a 10RMB tip, but this time as we left a waitress (not the one who had served us!) came running after Steven and tried putting the money back in his pocket! The girls in traditional dress sang again as we left – this time we'd noticed that it was something they did for all guests.
For anybody due to visit Lanzhou the restaurant is 50m from the Legend (just around the corner, past the cake shop and 4-5 shops down the block, i.e. when walking towards the main square) or ca. 300m from the JJ Sun walking away from the main square. The restaurant is on the same side as the Legend and the JJ Sun set back from the main road. It really is worth a visit, and the food is very good.