Lanzhou, Sunny – Max: 7,8; Min: -4,4; Avg: -1,7
Today we reached the end of a very long journey, and the start of another. The children were due to arrive at 8:30am, after an overnight journey from Jinchang and a short stop to freshen-up at a nearby hotel. We rose early and ate breakfast. Everybody was a bit subdued, nervous and expectant at what the day would bring.
The children were delayed. They arrived at 9:00 in a small bus. We were waiting in the lobby of the hotel, nervously chatting, when the bus pulled up and its door opened. The first person to come out was a small child, surely not Yanmei and certainly not Amanda (Heidi and Jimmy) or Silke (Gunhild and Jens). We looked nervously at each other; we weren't expecting a child this big. Then the nannies emerged from the bus one after the other, each carrying a baby wrapped in a blanket. There were three babies – the girl that came out first was the daughter of one of the nannies!
Our very first picture of Yanmei!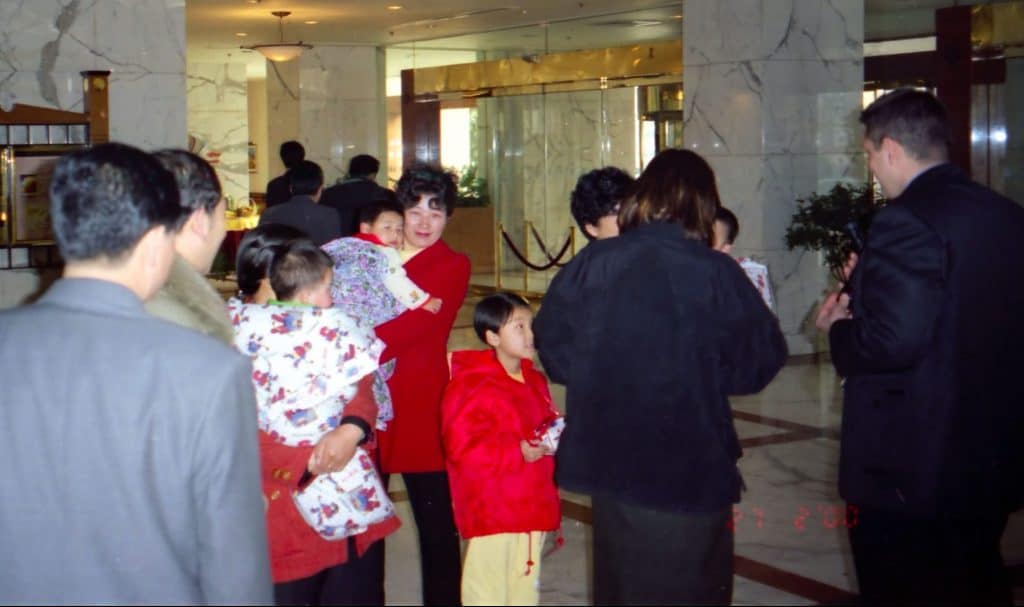 Everybody filmed and took photos. The nanny held onto Yanmei and we looked and smiled at Yanmei – she looked tired and sad with short hair (although not as short as on the referral picture!). She was wearing a white and red jacket and trouser set, with a cat pattern printed on it, and slippers with fur. As normal in China, there was a hole in the trousers and newspapers instead of a nappy!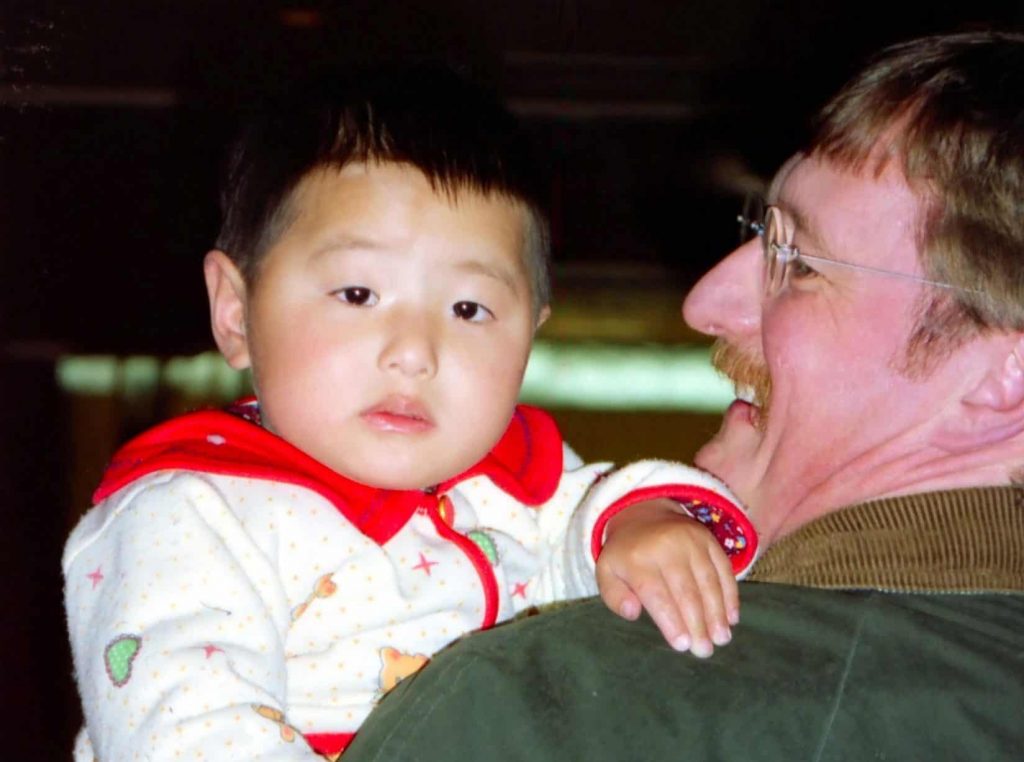 After waiting a few minutes for Yanmei to get used to the look of us, Steven took her up in his arms. She sat on his arm looking around, not really knowing what was going on – but knowing that something was happening. Lene asked the nanny whether Yanmei could walk and they showed us that she could walk when somebody held her hand. The nanny seemed genuinely touched at handing over Yanmei and shed a tear. Yanmei showed no reaction at all.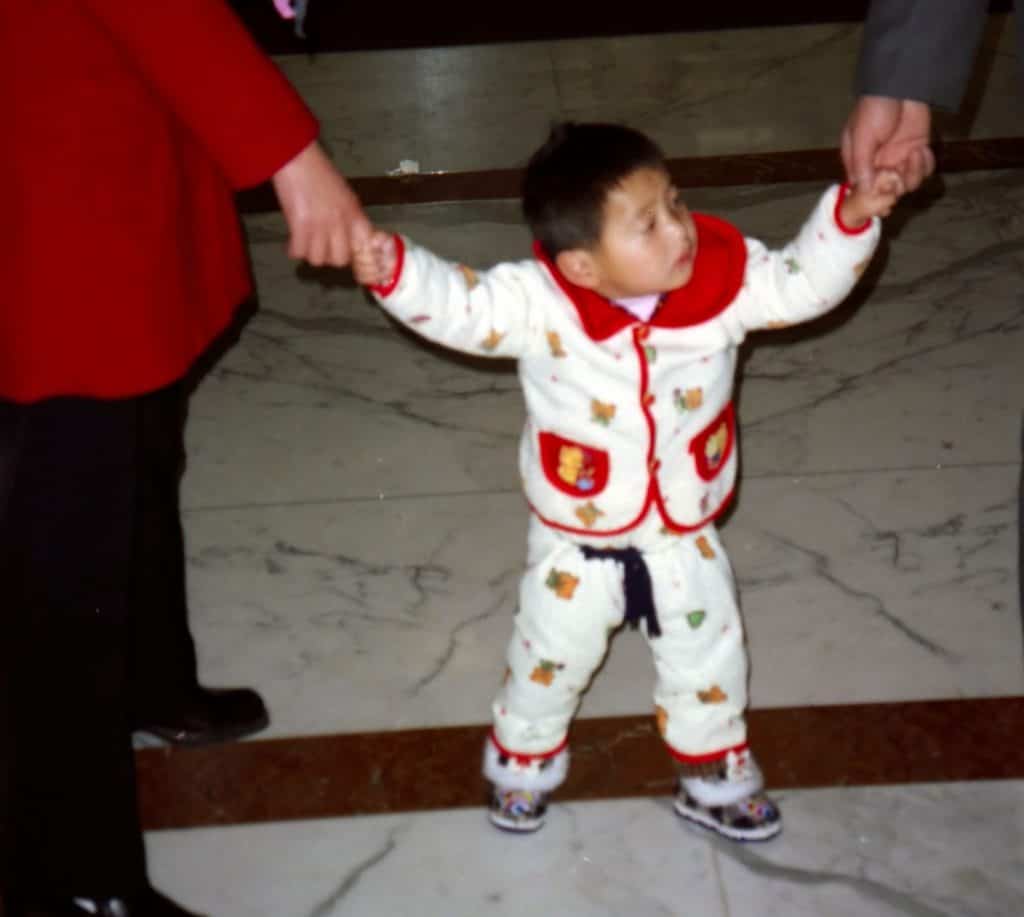 After about 30 minutes we left the hotel and took the bus to the photographer (across the road), where the official pictures were taken. We took a big group picture of everybody – the three nannies, daughter, the director and legal representative of the Social Welfare Institute, Steed and a representative from Lanzhou. We then took a picture with Yanmei's nanny and finally a picture with Yanmei and us, her forever parents.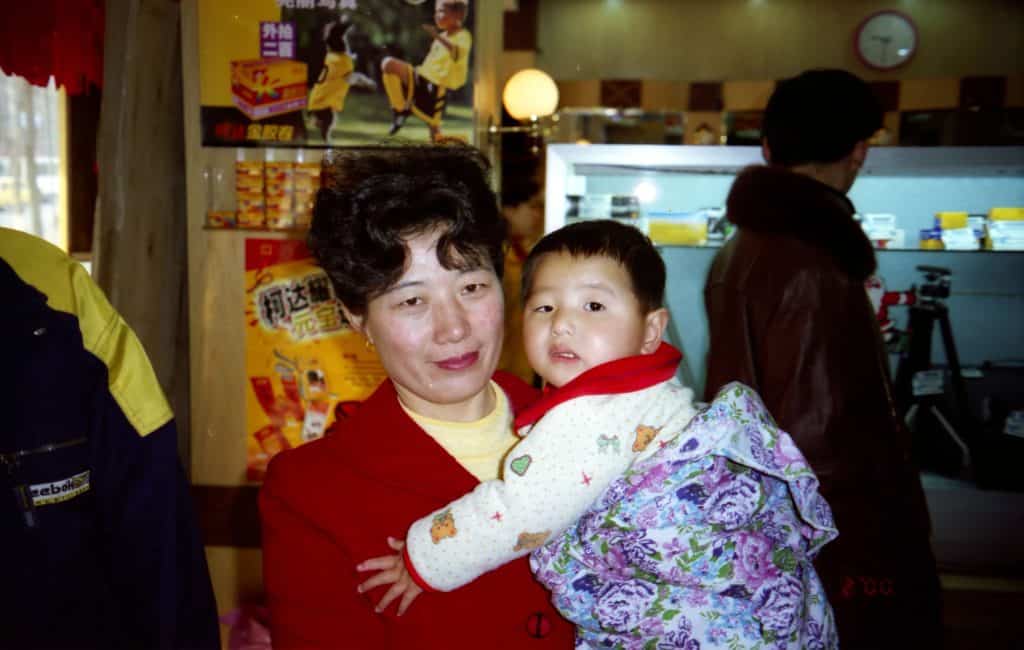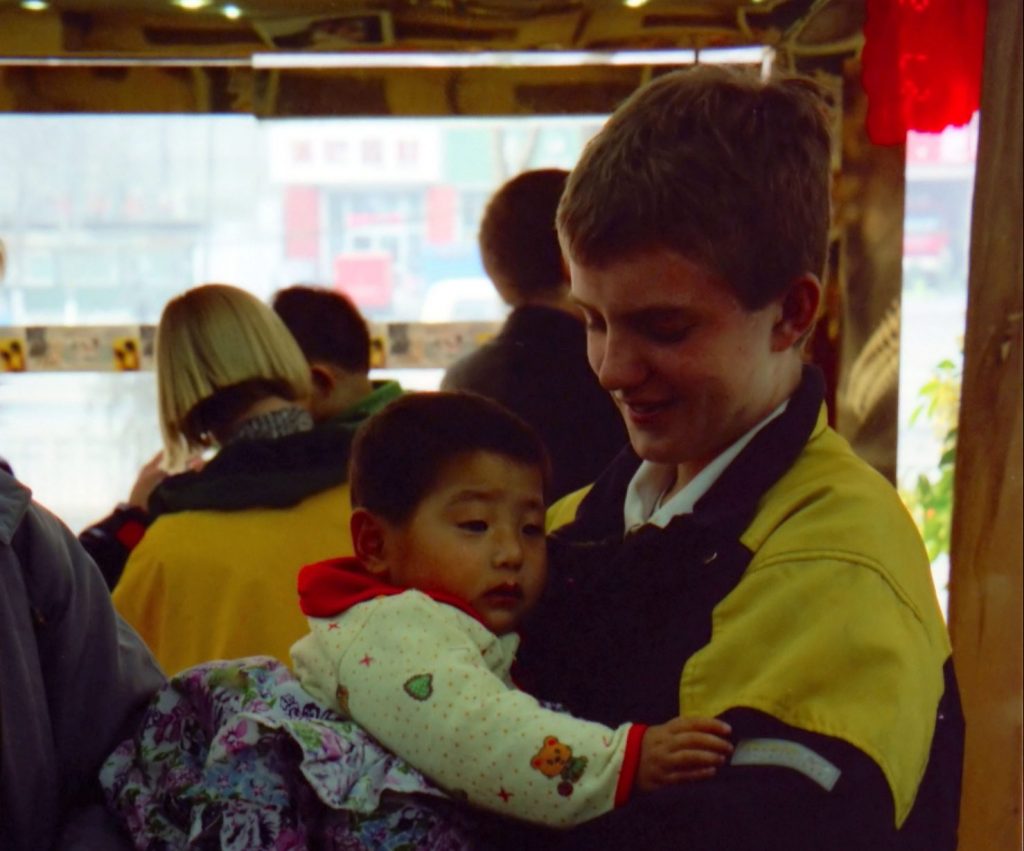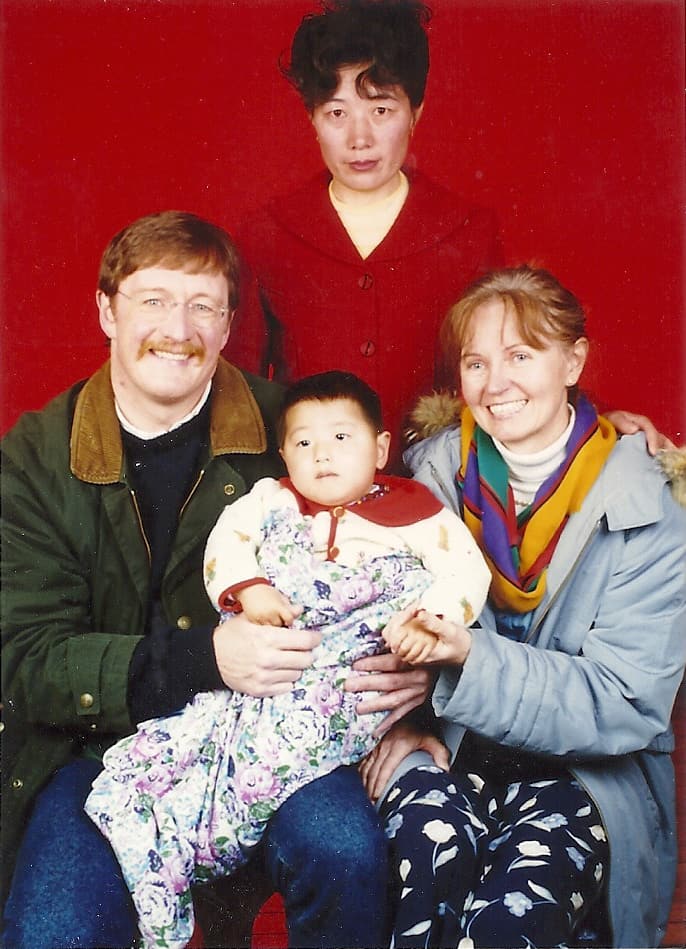 The next stop was the Ministry of Civil Affairs, where the whole entourage went up several flights of stairs and crammed into a couple of small offices. Here we had to fill in forms, answer questions such as why we were adopting, take a footprint of Yanmei and pay the present to the institute (3000USD). The nannies hung around and offered advice – but generally kept a distance. Yanmei had to set her footprint on some official paper. A red footprint.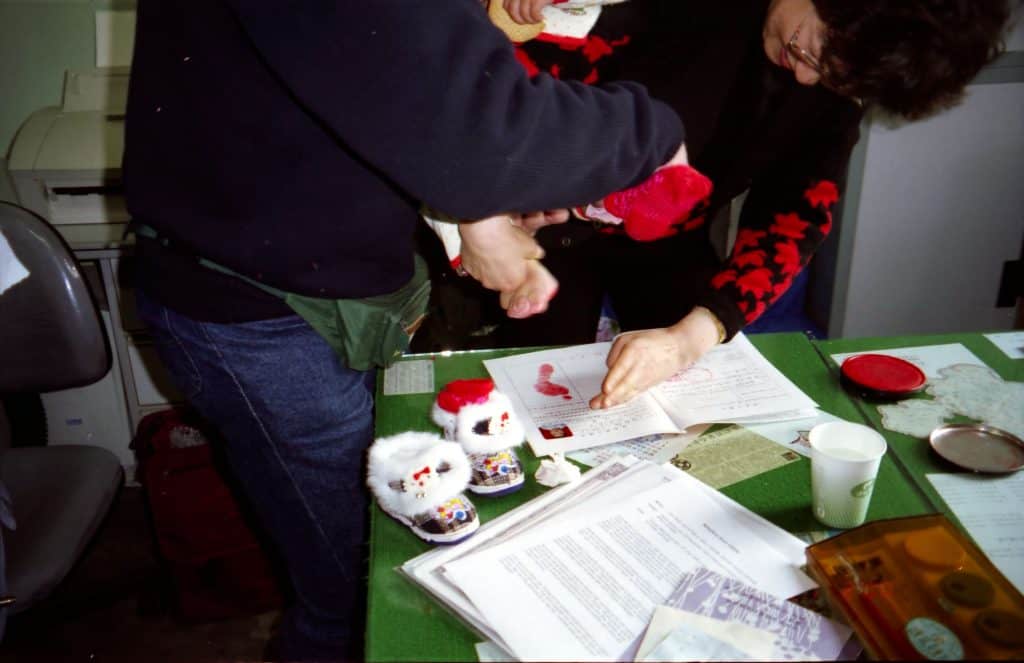 Thomas had given Yanmei a Duplo lady, which she never let go of. She happily accepted food – a digestive biscuit, but still didn't show any feelings – she neither smiled nor cried; just sat on our laps and looked sad!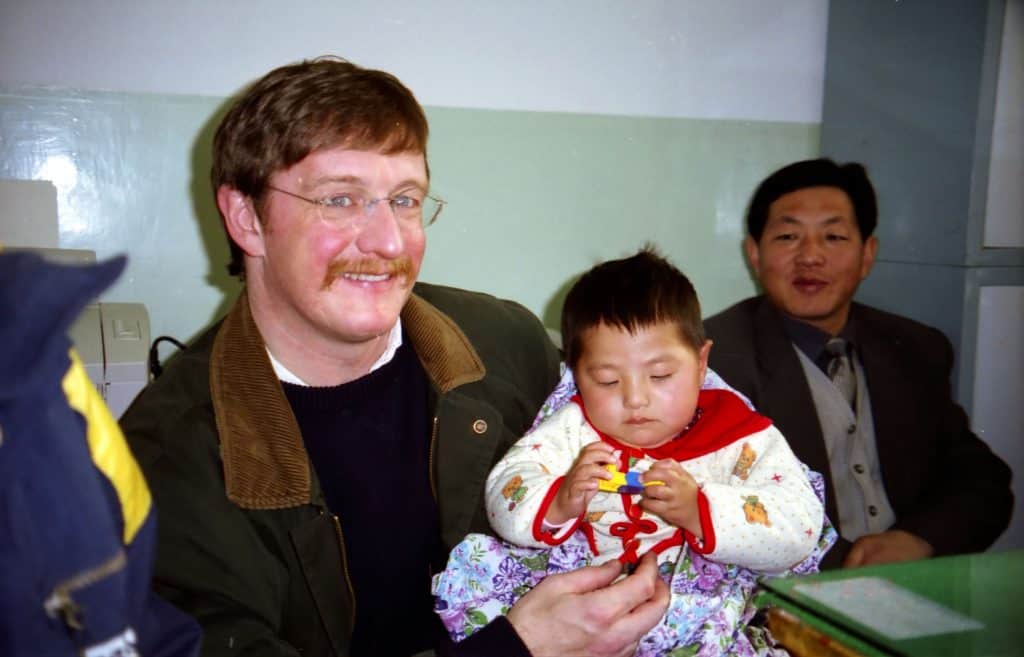 In the rush to travel to China, we'd forgotten to take passport photos with us. We were ushered off to a different photographer to get a set of black and white passport photos – we left Yanmei with Thomas. When we got back, Yanmei was in tears. Thomas had given her raisins, but instead of chewing them she just stored them in her mouth. After she'd stuffed about 20 of them in her mouth, she decided she didn't like them and screamed (how she managed that with a mouth full of raisons, I'll never know). The nannies and director from the orphanage were all over her, fingers in her mouth pulling out raisins. They eventually calmed her down – we were only spectators. I'm sure that the nannies were already wondering whether Yanmei would survive the week!
After about 2,5 hours we'd finished all the formalities and the nannies said goodbye! We left to go for lunch; to the same restaurant as the previous day. Yanmei sat on our lap and ate rice and played with the chopsticks. She seemed content and had a healthy appetite, mostly for rice. She was neither happy nor sad. After lunch we went back to the hotel with strict commands to be waiting in the lobby at 3pm for the next round of official papers.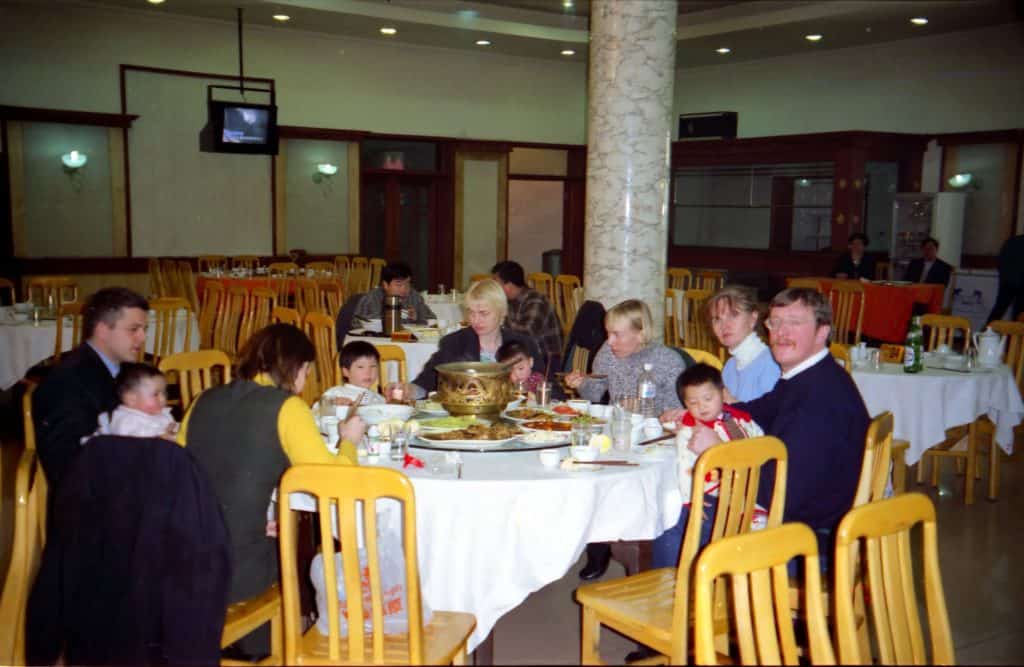 We just had time to change Yanmei's clothes and give her a European nappy instead of her Chinese newspapers!. She sat on the bed and played with small items – keys, Duplo etc. She could easily pickup things all around her when sitting up. She didn't try to crawl, and certainly not contact us in anyway. We couldn't understand that her cheeks looked so round, so we opened her mouth and found that some of the rice that she'd eaten at lunch was still stored in her cheeks. She must have saved it in case this was a one-off and she didn't get anymore.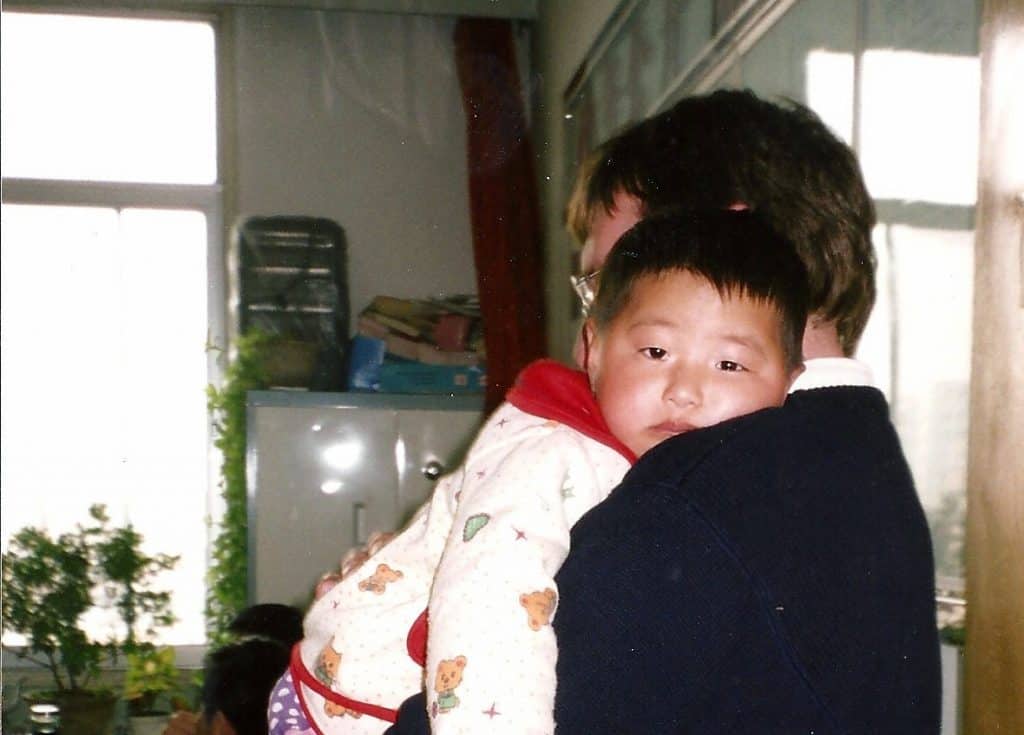 The bus dropped us off in front of the office of the Lanzhou Notary. We trooped upstairs, only to find out that we had to go to a different office first. Luckily the Notary for Foreign Individuals was only across the road. Here we received permission to take our daughters out of the country (100USD). It took about 1 hour. Again we were all cramped into a very small and dark office, with a female official that wasn't in a very good mood – or so it seemed to us. Yanmei fell asleep in Lene's arms.
Now we had the necessary official paper to start the process of completing the official authorisation for adopting Yanmei. We went back across the road to the Notary office. The officials were very kind and seemed very young. They were also very interested to hear about us and Denmark. We filled in all the papers – it took a couple of hours all told. Luckily each couple was assigned an official, so the work took place in parallel. It cost 500USD – supposedly the most expensive in all of China? Thomas looked after Yanmei whilst we filled in the forms, offering her a steady flow of biscuits, which she readily accepted.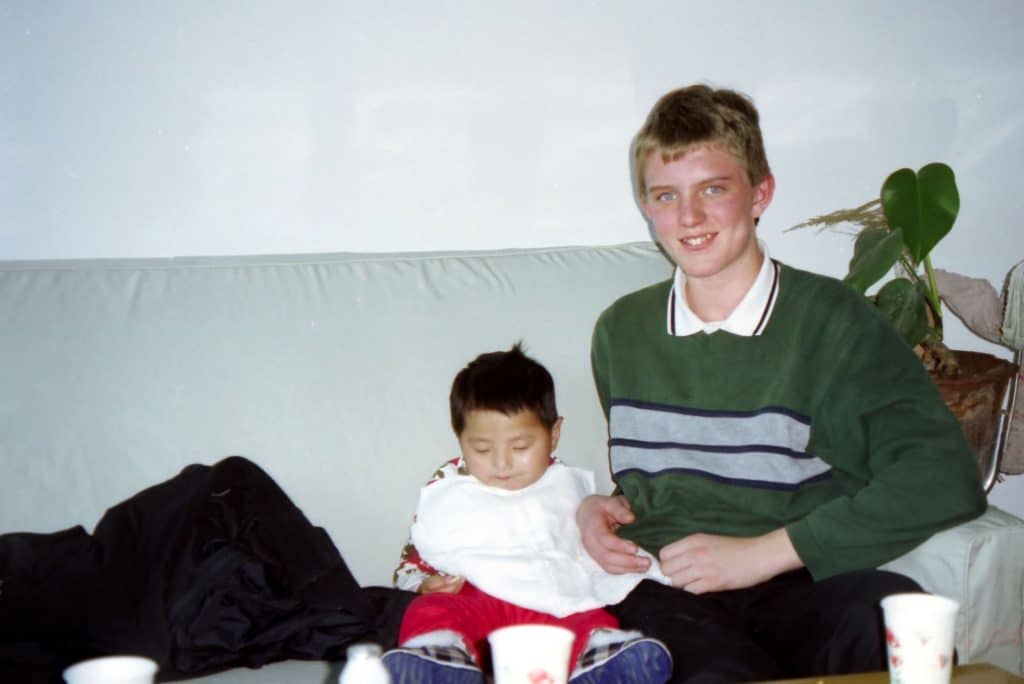 Everywhere we went we generated lots of interest – especially Thomas, the 13 year old giant. The bus-driver told everybody that Thomas was only 13, but at 1m80 (5ft10), he was still a head and shoulder above all the other Chinese men!
We went back to the hotel with Yanmei. She still hadn't really interacted with us, although we got a little smile late in the evening. She looked so sad! She moaned if we put her down or let go of her hand – but not for long. She liked going for walks along the lobby, holding our hand. We took it in turns. It wasn't long before she even reacted to us saying 'Walk' – she held out her hand and off we went, up and down the lobby.
We ate in the hotel restaurant (Imperial) – Yanmei eating porridge and a few other things. She unpacked a caramel – she certainly knew what a caramel was.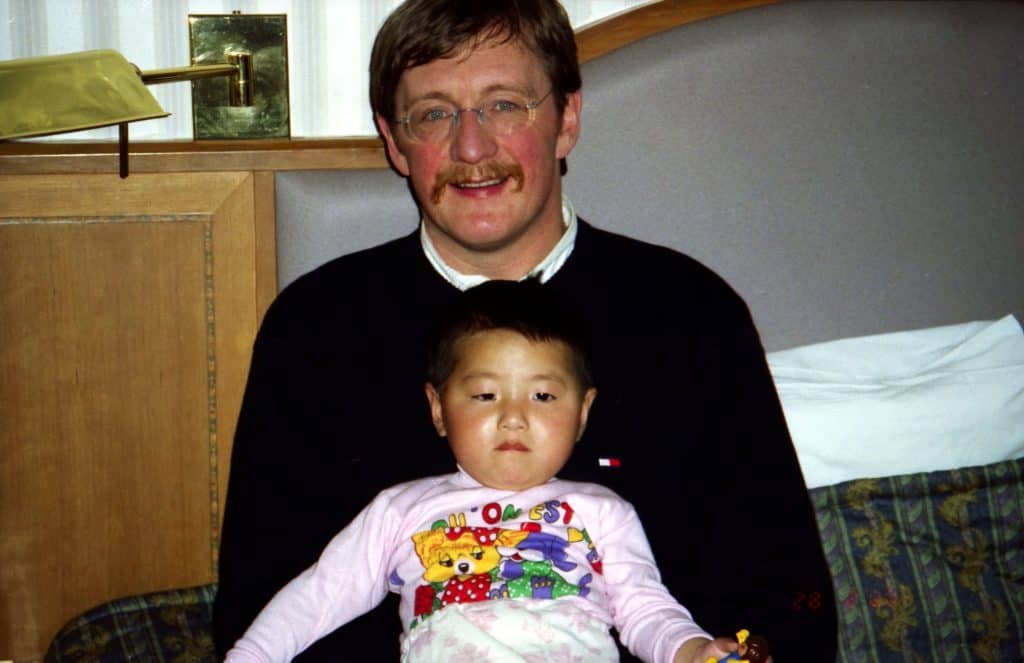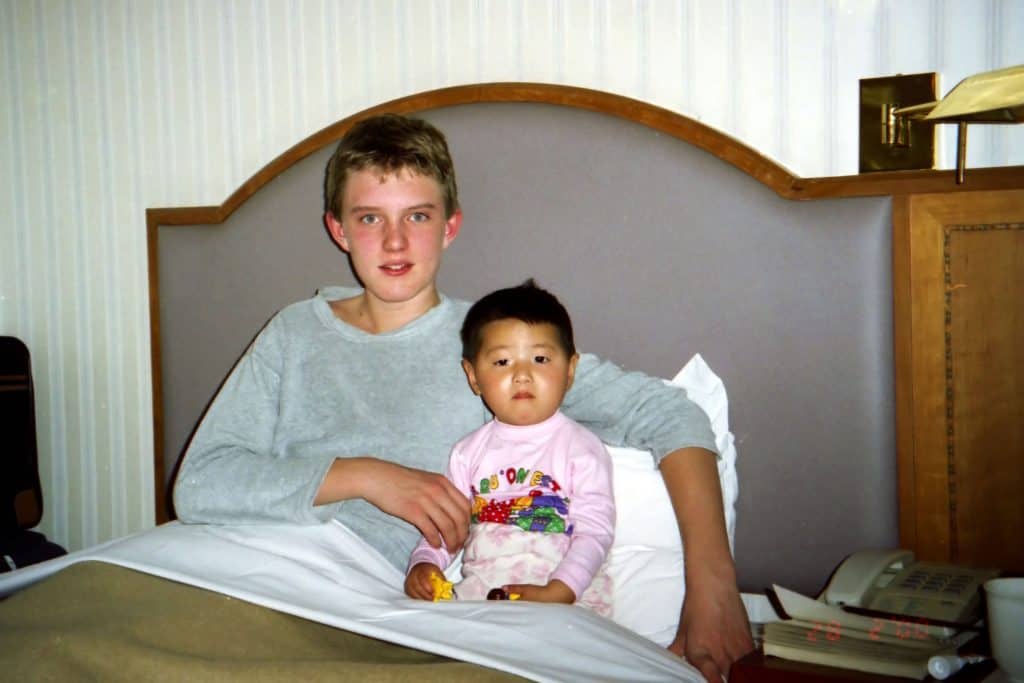 At bedtime we undressed and tried to wash her – she screamed – at least it was some kind of reaction. Water certainly wasn't something she had happy memories of – perhaps they'd been washed in cold water. She fell asleep on Thomas' bed and we moved her over to her own bed, without her waking. She slept all night. So did we!