Lanzhou, Sunny – Max: 3,2; Min: -10,0; Avg: -3,4
It was Saturday, and today we left Beijing for Lanzhou in Gansu province, roughly 2000km west from Beijing and situated in the centre of China.
After breakfast we checked out of the Holiday Inn and met Christina from BLAS. We paid her for the services of BLAS, USD 2,975, for arranging the trip to Lanzhou etc. We were driven in a small bus to the hotel where the other families were staying. We seemed to have plenty of time and Heidi and Jimmy even had time to go to the bank before we could continue our trip to the airport.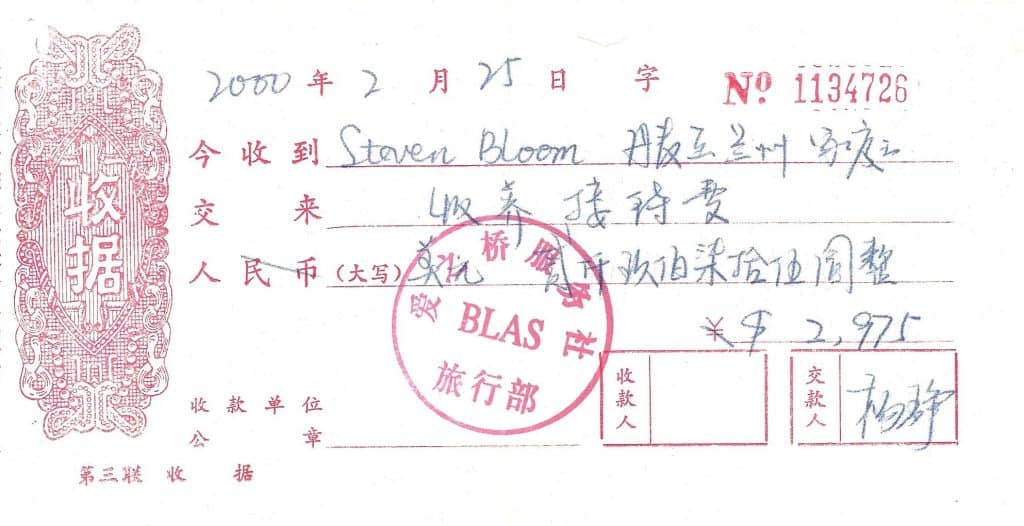 At the Beijing Domestic Airport, we checked in on WH2112 bound for Lanzhou (LHZ) on China Northwest Airlines. We were pleasantly surprised to be boarding a new Airbus for the trip into the unknown (at least for us). The on-board service was also excellent – first a drink (coke, water or tea), then a light lunch (a sandwich, sand cake) and finally a snack (what looked like, and smelt like dried shrimps – the Chinese ate them, we all left them).
Flying to central China one really understands the vastness of the country. We flew approximately the same distance as Nice to Copenhagen – a trip where you'd probably fly over Denmark, Germany, Switzerland, Italy and France; but in China you're still only halfway across the country. One also sees the vast areas that, at least from 10km's up, remain more or less uninhabited and barren.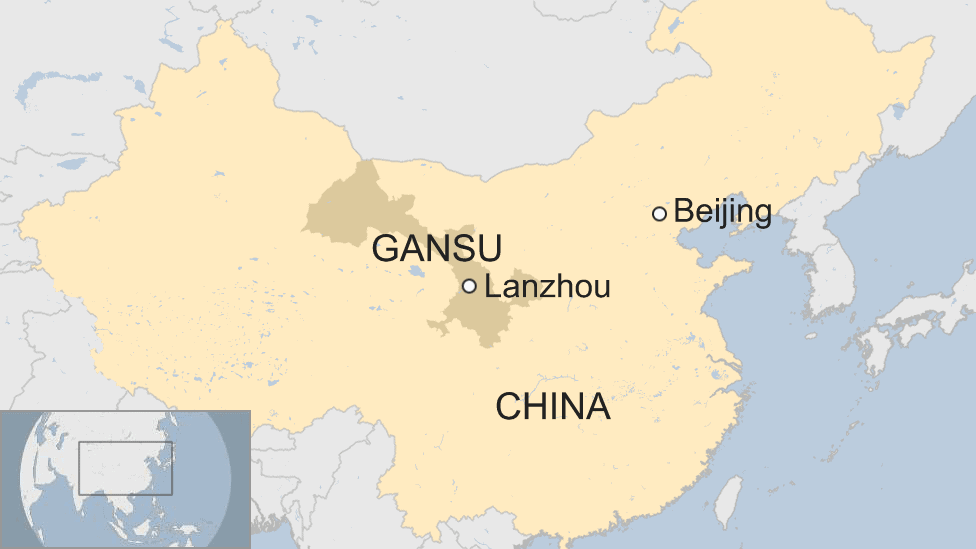 Lanzhou International Airport lies about 50km north of the city. We were told that as Lanzhou is surrounded by mountain ranges, the airport can't be situated any closer to the actual city. The airport consisted of a single building, probably built in the 50's. Evidently a new airport was to be opened in 2001. There can't have been many planes that landed and took off daily.
After collecting our baggage we met our guide, Steed, and our bus driver, who hopefully would safely navigate us through the traffic during the next 7 days. However we were left wondering after this first trip. This was the first time that the whole group had been together. Vita loved a story about Thomas jumping in a pool in Turkey when he was 2 years old – a story that was repeated several times over the following days. Steed handed out our Adoption Tour passed with numbers to the hotels we will stay, but not to him.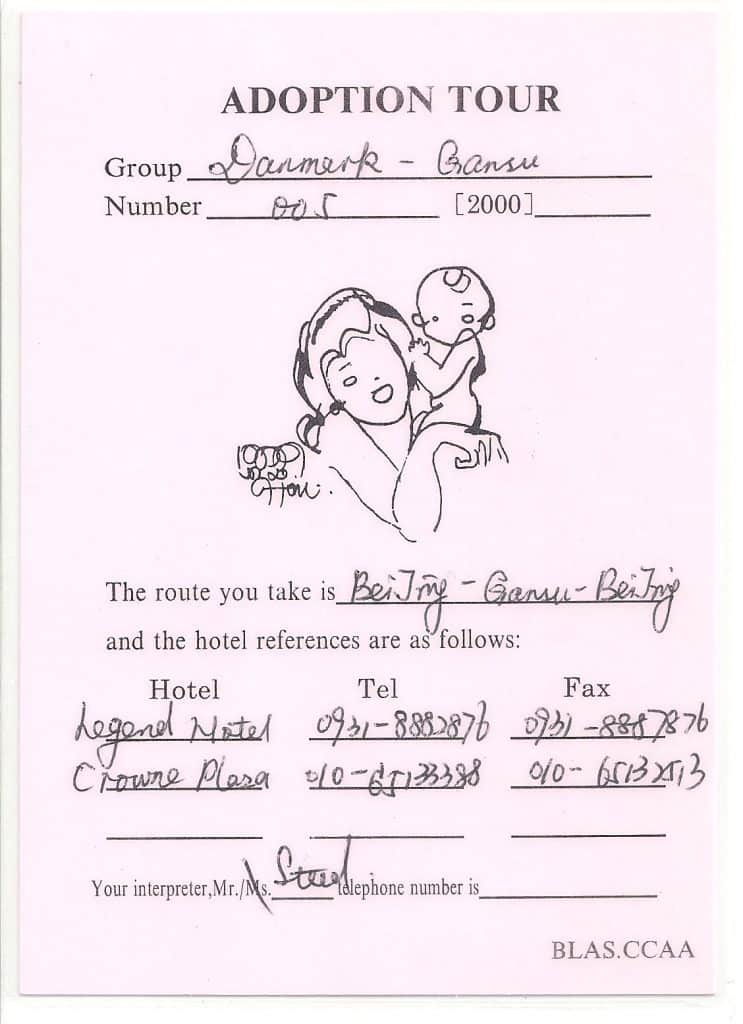 The drive to Lanzhou took place through a barren landscape with small communities spread out along the road. Some farming took place and there were a number of greenhouses along the roadside. Lanzhou is a long thin city that has grown along the Yellow River. It covers over 14,600 square kilometers and has a population of almost 2,5 million (2000). It is the political, economic and cultural centre of Gansu province.
The weather was sunny but cold. There were piles of dirty snow on the street corners. According to Steed it had snowed with temperatures as low as -18C during the previous week. We were going to be lucky; the weather stayed beautiful throughout our stay – none of the smog that this city is infamous for. We arrived Saturday afternoon and the city rose in front of us as we headed south. Our hotel, The Lanzhou Legend Hotel, was situated close to the main square, but a bit away from downtown.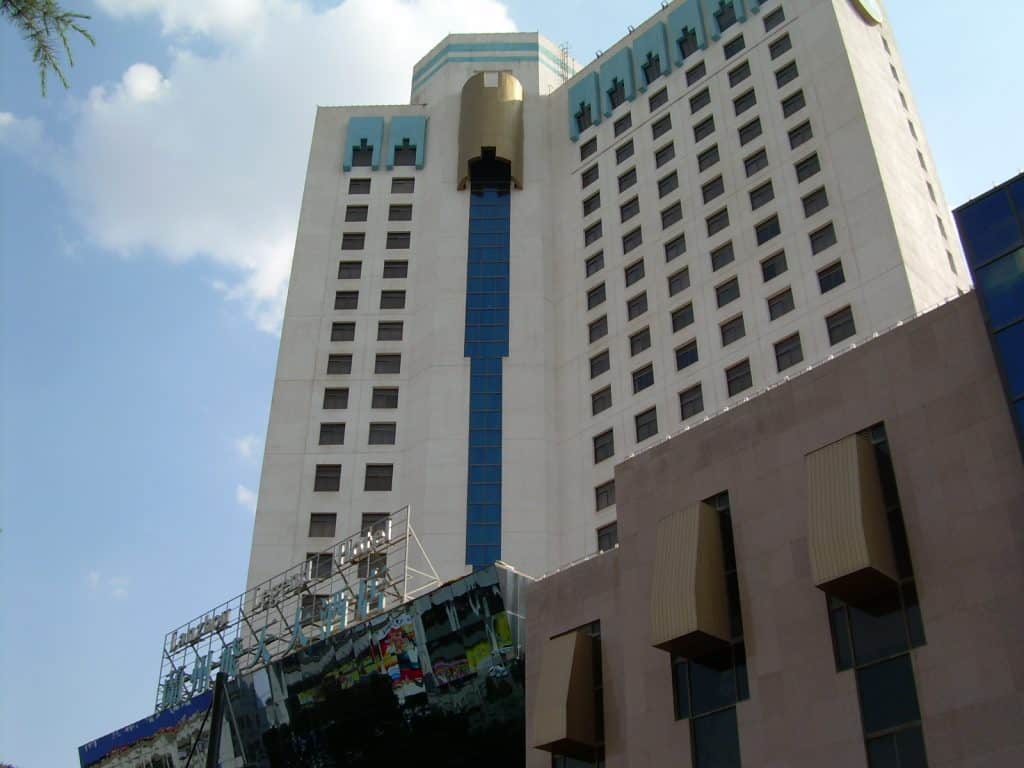 The group had rooms on the same floor. Our room, 1120, had a great view of life (not least the traffic) on the street below – the hotel was situated on a large intersection and we could see in all directions. Once installed (and Thomas had zapped through all the channels, not finding NBA this time); Lene and Steven went for a walk – back towards the main square. The children were out flying kites. We stood and watched them, whilst a number of people stood and watched us. We visited Pakson, a multi-storey department store on the square – initially looking to buy some groceries, but didn't find any.
We made our way back and found a grocery store next to the hotel. The shelves were half-empty, we found a few things to eat, but were surprised by how little there was compared to the grocery store that we had visited in Beijing. We bought some fruit from a street vendor and went back to our room to relax, eat some food and and watch TV.
Only one more day before we'd meet Yanmei.