Beijing, Sunny – Max: 5,2; Min: -4,8; Avg: 0,2
We landed more or less on time at 11:30am Chinese time (5:30am Danish time). We queued up for passport control (it took about 20 minutes) and then went down to collect our luggage. It had all arrived. We said goodbye to Jens, Gunhild and family (they were staying at another hotel).
The Arrivals Hall was packed – but nobody was waiting for us! We decided to exchange some of our Dollars (we didn't have any Chinese money at all!) and get a taxi to the hotel. We went to the Hotels Desk at the airport to ask them to write down the Chinese name of our hotel – most taxi drivers don't speak any English!
Outside it was cold and there were two taxi queues – we went to one of them and were told to go to the other queue. The taxis were of various sizes, but none of them seemed to be big enough for 3 westerners and their entire luggage! Finally we were ushered into a waiting taxi with enough room for all of us – and off we went for our first trip in China !
We arrived safely at the hotel after a 30 minute ride – 112RMB was far cheaper than the equivalent trip in Denmark – but then again it wasn't a Mercedes Benz either. We checked in – the Internet booking had worked and we went up to our rooms. Thomas turned on the TV – zapped through a handful of channels and of all things, found a NBA match on TV (our son is basketball crazy) – it wasn't exactly what we were expecting as our first experience of TV in China.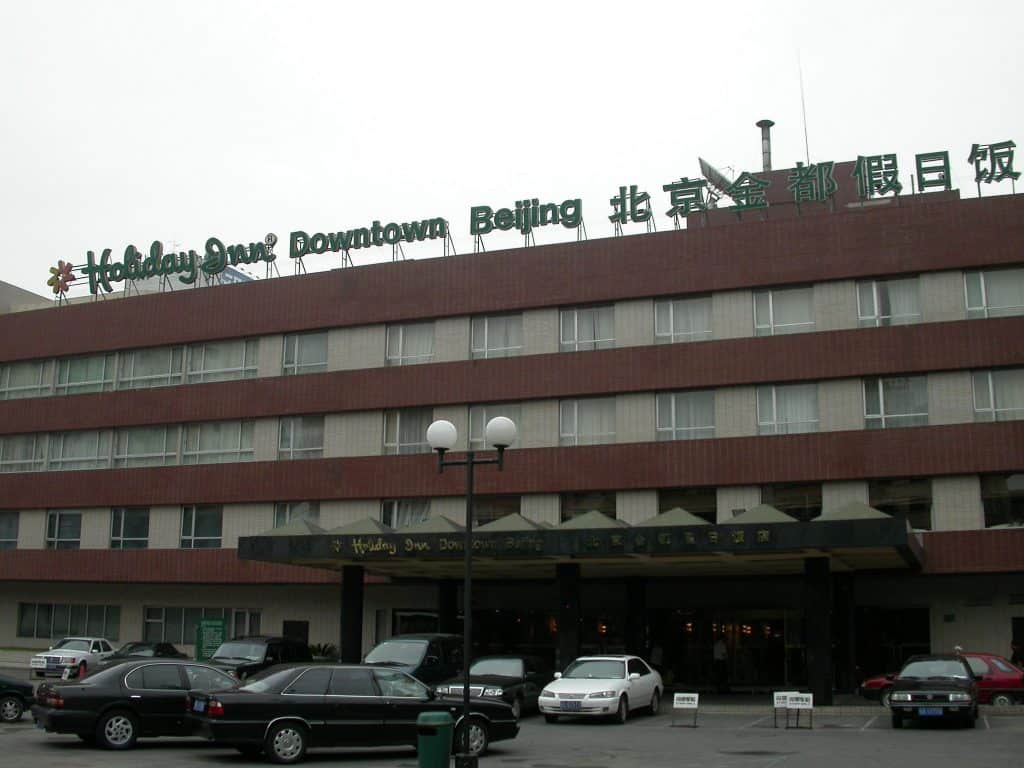 We unpacked, relaxed a bit, had a snack and waited for Thomas' match to finish. We took a map in reception and realised for the first time, that Holiday Inn Downtown wasn't at all 'downtown' but next to the inner ring road, a few kilometers from downtown.
It was cold but sunny and we decided to walk into town along Fuchengmen Nei Avenue. Here we got a real picture of life in Beijing – thousands of people and hundreds of small shops. We were surprised by the many cars – we were expecting bicycles. Many people stopped up to look at us.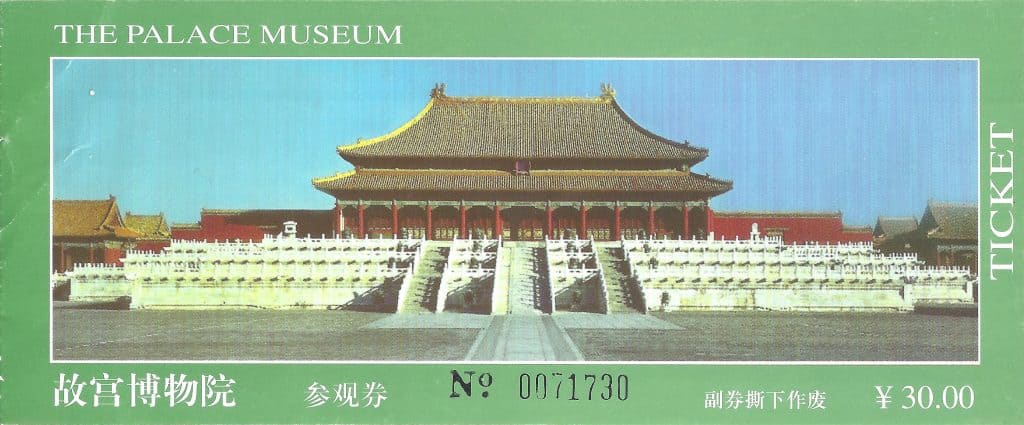 We walked to the Forbidden City; it took about an hour. Near the Forbidden City we saw the entrance to some of the low dwellings that were everywhere in Beijing in former times – Hutongs that probably won't be there in 5-10 years time.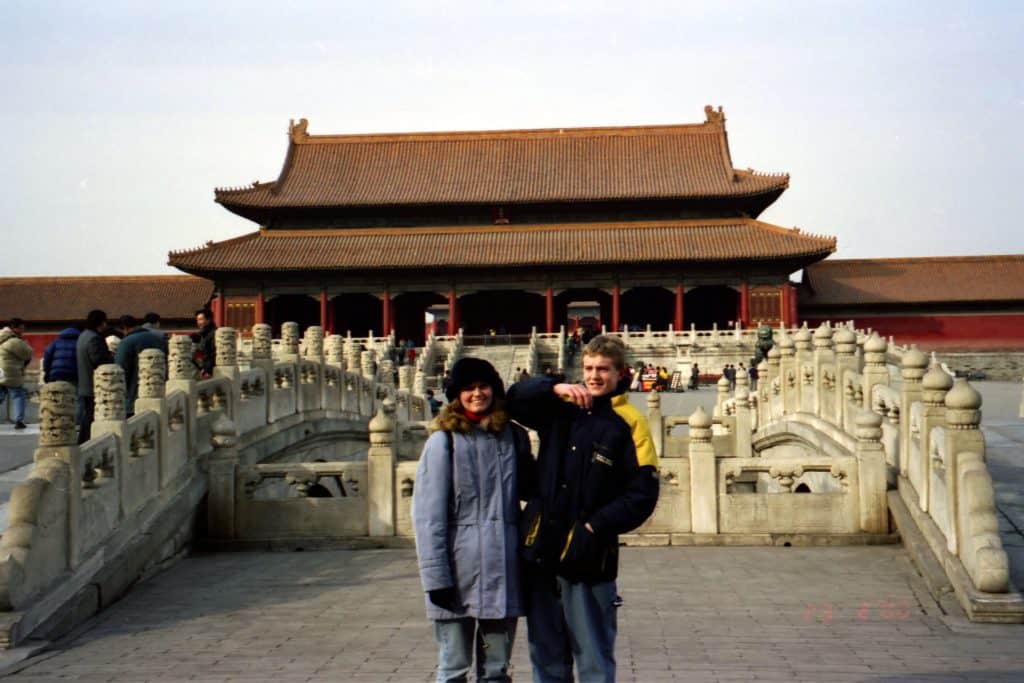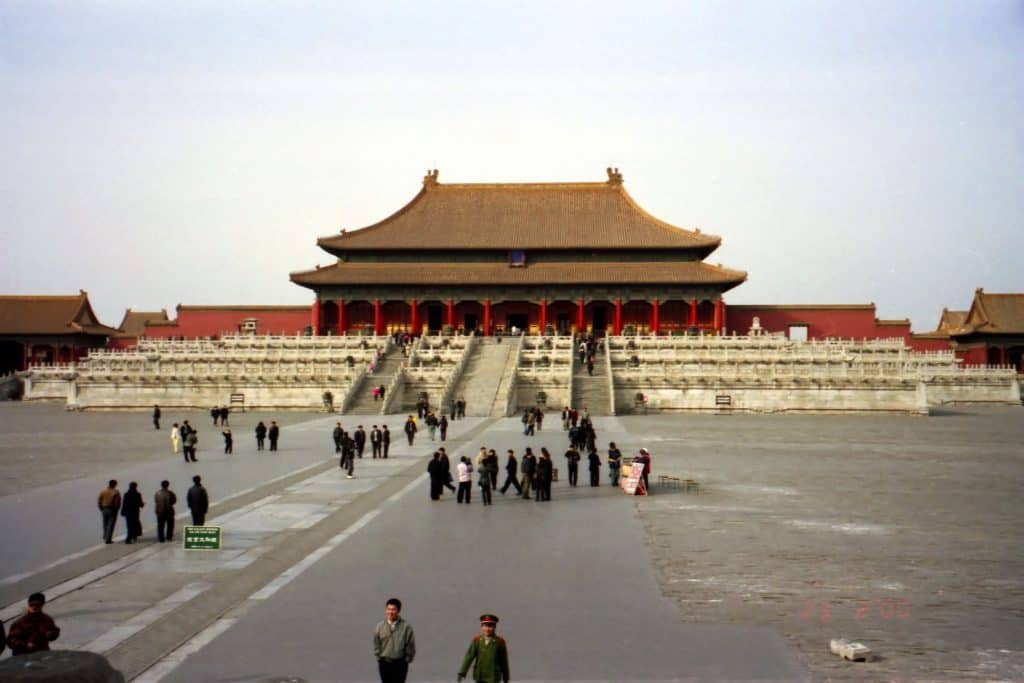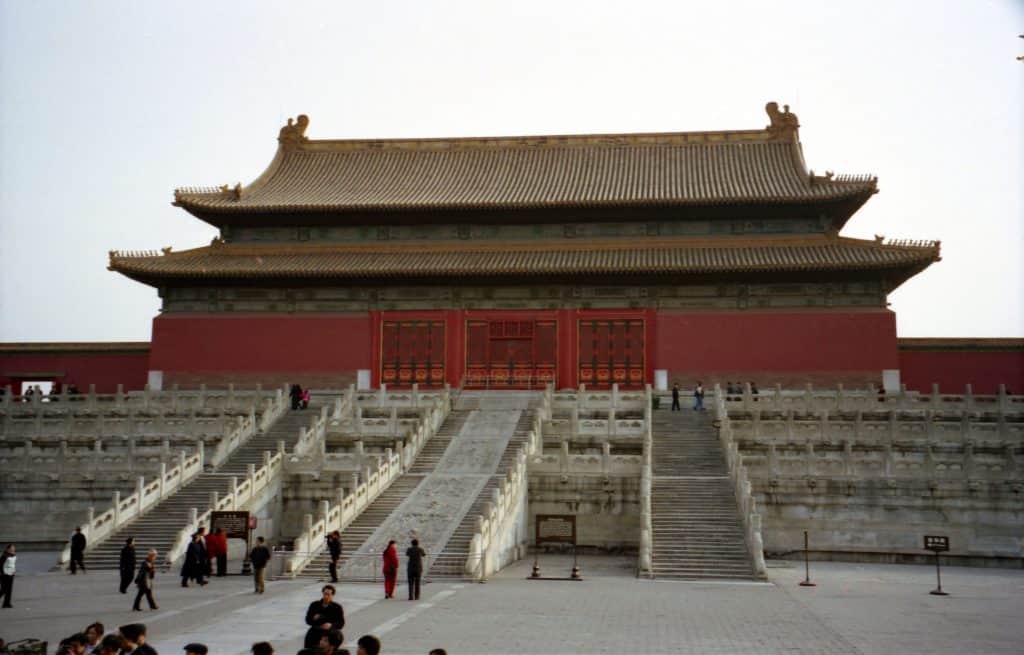 We entered the Forbidden City from the southern Entrance and took a leisurely trip around, seeing many of the sites, but not really knowing very much about them as we didn't have any guide books with us. However it was our first taste of Chinese culture – the sun was setting and it was getting cold.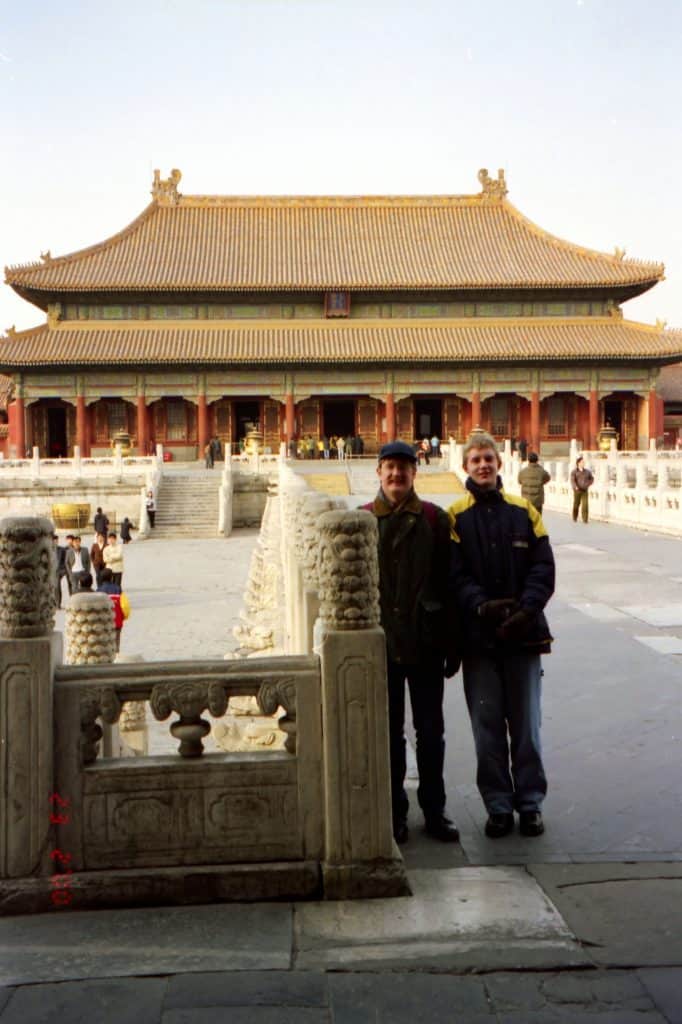 A young Chinese artist sold us one of his pictures – he told us that the proceeds from the sale were to pay for a trip to Munich later that year – Lene at least believed him. We were surprised that there were so few people in the Forbidden City, and next to no tourists.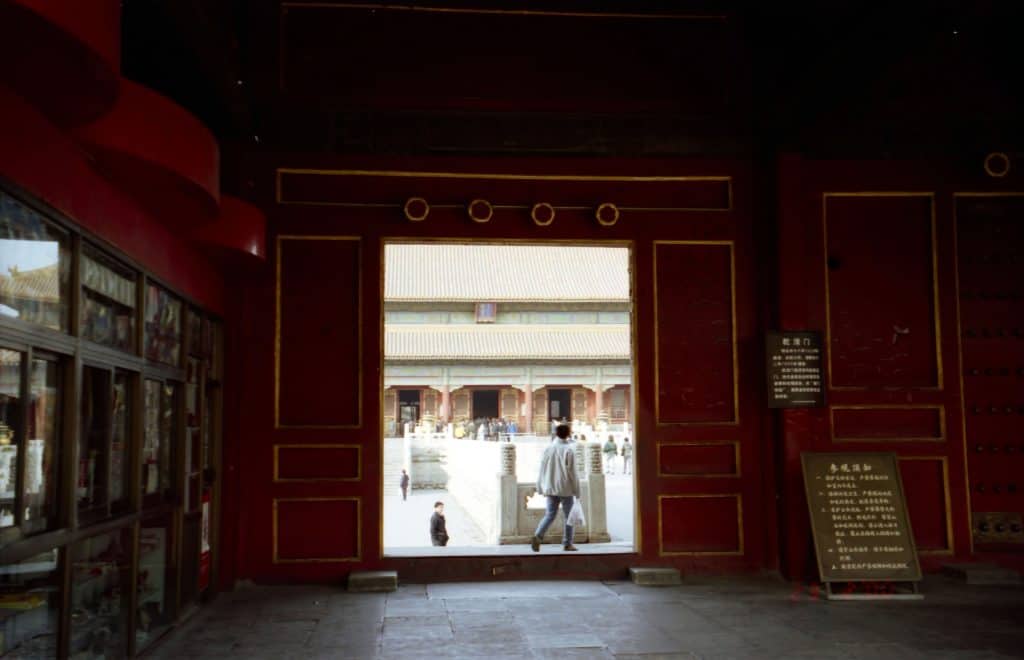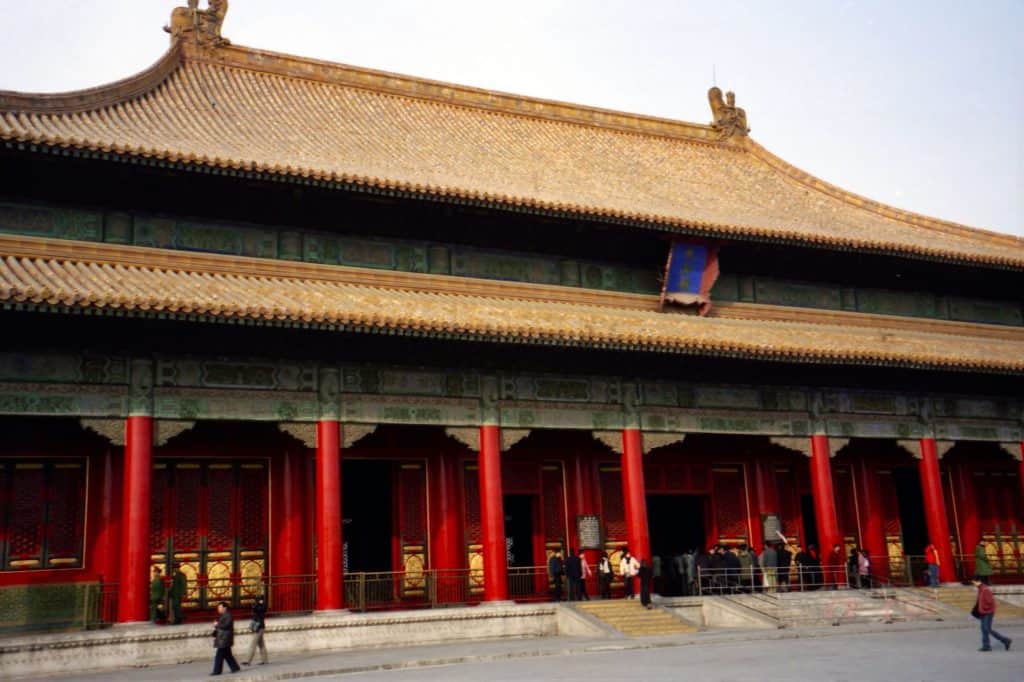 We left the Forbidden City and walked across Tiananmen Square and took a photo of Lene and Thomas in front of the famous Mao picture on the square. We saw three Chinese soldiers running (not just marching) in step – it was a pity that the camera wasn't on hand just then. We started to head back towards the hotel along Xichang'an Avenue, past the Great Hall of The People. Thomas was very tired by now, and we were all feeling the cold.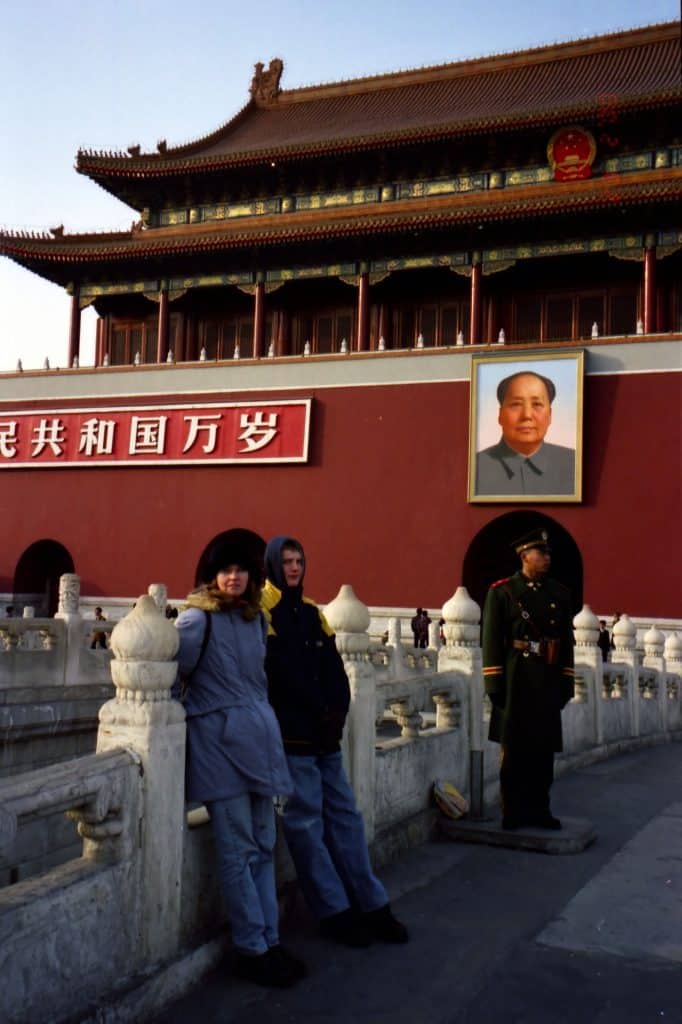 As we headed back towards the hotel, we were stopped by a group of Chinese in their 20's. They pushed a camera towards us. We thought that they wanted to sell it to us and politely declined. When they persisted we thought that they wanted us to take a picture of them. We went to take the camera, but that wasn't what they wanted either. They wanted to take our picture together with them. We obliged, and we hope that it's a good picture.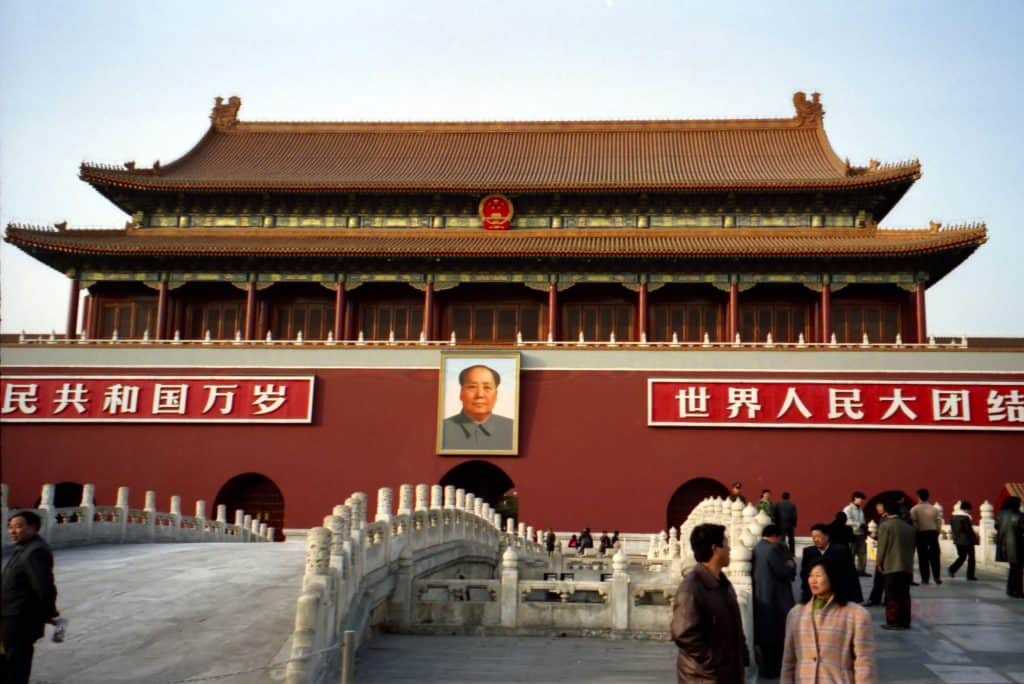 We headed up Xidan North and Xidan South. Thomas refreshed on the way after spending sometime in a sports shop. Back at the hotel we eat a light dinner – even Thomas couldn't empty the buffet. We could hardly keep our eyes open.

It had been an interesting first day in China. We all slept well. Still no real time to think about what wonders Yanmei would bring!