| | |
| --- | --- |
| Sunday March 29th, 2009 | Beijing, Sunny – Max: 6; Min: 0; Avg: 3 |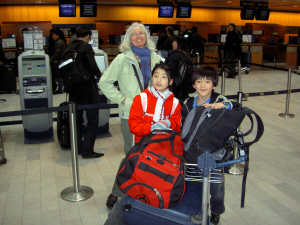 We travelled via Amsterdam, leaving Copenhagen around lunch time, Saturday, arriving in Beijing on time at 10 am, Sunday. There was no in seat video, so it gave us all a chance to have a nap - although the flight was full. Unfortunately a person just across from us was taken seriously ill and was shipped off to hospital when we arrived.
We'd heard a lot about the new Beijing terminal, but unfortunately KLM land at the old terminal, so didn't get to experience it yet - we did later when we returned from Guilin. Custom clearance was quick and by the time we got to the conveyor belt, or luggage was already circling. So in less than one hour we were already sitting in a taxi on the way to the hotel.
We were staying at a different hotel this time, our 5th hotel in Beijing. Although the Wangfujing Grant Hotel is on the main shopping street of Beijing, the taxi driver didn't know where it was, and we ended up giving directions. It was probably more a ploy to take us a detour to the hotel - something all the taxi drivers seem to do when driving foreigners from the airport. No matter the trip cost no more than 130 RMB including a tip.
We were tired and the check-in process long, but we were of course please that we could get out room - it wasn't even lunch time yet. Unfortunately we had been put on a smoking floor. The room was OK, but had a slight smell of smoke. We crashed out and slept for ca. 3 hours. It was tuff to get up - even though 15:00 is the equivalent of 9:00 in Denmark.
We washed and dragged ourselves out onto Wangfujing. It hadn't changed. One of the big department stores had closed down, but another one had opened just across the street. The street was packed, most Chinese carrying boxes with the Olympic mascots - for which they queued for up to an hour.
Most noticeable was a greater variety in clothing - not least far more different colours than we had seen previously - not least from the women. It seems that from being a homogeneous mass, the Chinese are become individualists - something we saw mostly in Beijing, but probably also applies in the other big cities.


Yanmei was looking forward to noodles, so we found a noodles restaurant and enjoyed our first meal in China. It was nice with something warm to eat as it warm in the sun, but pretty cold in the shadows - and on the walking street lined by department stores, there were many shadows.
We walked to towards Tiananmen Square and were, as always, stopped by art school students trying to get you to visit a gallery and purchase a painting - we declined politely. We took the customary photo's of Yanmei and Daji in front of the portrait of Mao on the Gate of Heavenly Peace. A crowd was already gathering to see the flag lowering on Tiananmen Square. Although I always have good intentions to be before sunset and see the raising of the flag, I never made, and I was sure things wouldn't be any different this time around, so we decided to hang around to see - it must be fairly interesting so many people had already gathered. We were wrong.


To cross the road you have to take one of the underground passageways. Whilst you could in theory make it across the road, this is strictly forbidden. Anybody trying is arrested. When you take the passageway, all bags are checked - just like at the airport. We assumed that this was to do with 1989 student pro-democracy demonstrations, but evidently has just as much to do with people setting themselves afire during the ceremony. Each soldier around the perimeter of the flag lowering area, was armed with a fire extinguisher!
We waited 30 minutes in the cold before anything happened. We were elbow to elbow and several rows deep as we all craned our heads to watch the soldiers pour over the central bridge of the Gate of Heavenly Peace, across the road - which is closed off - 108 paces per minute and 75cm per pace. The ceremony is timed so that the flag disappears underneath the pole at the same second the sun goes down. In the background the National Anthem is played and some of the Chinese sing a long. To be honest it was a bit of a non-event for a foreigner, but the Chinese waited long and happily to take it all in.


We walked back for coffee, hot chocolate and cakes in Oriental Plaza - and to get some warmth be before making that final trek up Wangfujing to the hotel. Walking back we saw, what we assume was a citizen's arrest – a woman chasing a man and shouting something we didn't understand. Two men stopped the man, discussed with the woman and fairly heavy handed took the man away. Back at the hotel we unpacked and we all asleep at 11pm, only to be woken by the occupants of the next room - who came back late and made lots of noise. We didn't sleep until 4am - except of course Daji, who slept through the night.