YANMEI


An invisible red thread connects those destined to meet, regardless of time, place or circumstance.
The thread may stretch or tangle, but never break.
Our journey to collect our daughter, Yanmei, started in February 1998 when we sent the adoption papers to the Danish authorities. A little more than two years later, and we'd finally arrived, proud parents and older brother, standing in front of passport control at Copenhagen Airport in Denmark.
Of course we didn't know that it would be Yanmei when we sent off the paperwork. It was only by chance that we even adopted from China - we'd planned to adopt from Haiti!. It's also peculiar to think that Yanmei was already 6months old when we sent off the paperwork, and even though we were destined to meet, it would take yet another 2 years before it would happen. As the Chinese proverb states: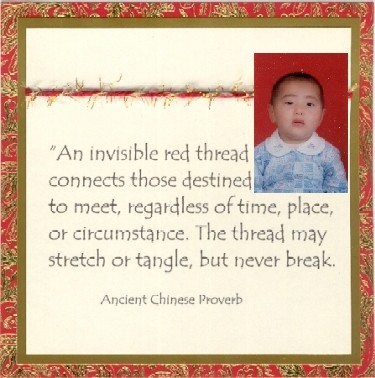 We certainly felt that the thread must have been pretty tangled and stretched, before we finally had Yanmei in our arms on the morning of February 28th, 2000, but luckily not broken. This web site describes the story - from the first papers being sent through Yanmei's growing up years. Our "incredible journey" is split into four parts:
The first section describes the approval process; This section describes both the process that we as parents (not forgetting Thomas our son) went through to be approved as adopters in Denmark, and the process of actually sending off the papers to China, waiting for the referral, and the information that we received about Yanmei before travelling to China.

The second section describes our trip to China to collect Yanmei, and the hectic few days preceding the actual trip.



When adopting from China, it is necessary to write two status reports that are sent to the Chinese authorities; one after six months and one after a year. In conjunction with this, our Social Worker made four visits to meet Yanmei and wrote a report following each visit. We also made two reports that were included in the information sent to China. We have included all these reports, in the third section, Yanmei's New Home. We've also put together a photo gallery for each year, starting in 2000, and a list of the main events of the year. Finally we've added a growth chart, where we charter Yanmei's physical growth, both in height and weight.

The final section describes what we know about Yanmei and her environment before she came to Denmark. Hopefully our knowledge about Jinchang and the Social Welfare Institute will increase over time – hopefully via somebody visiting Jinchang and the institute.